Manufacturing sales in Alberta fell four per cent to $6.1 billion in December, a second consecutive monthly decline, according to Statistics Canada.
"As a result, Alberta manufacturing sales in December were more than $700 million below their October level. The largest decrease in sales occurred in the petroleum and coal product industry, largely due to a drop in prices," said the federal agency on Thursday.
On a year-over-year basis, sales in the province were down 2.2 per cent.
Across Canada, manufacturing sales declined for the third consecutive month, down 1.3 per cent to $56.4 billion in December on lower sales of petroleum and coal products. Excluding this industry, manufacturing sales declined 0.3 per cent, said StatsCan, adding that sales fell in 12 of 21 industries, representing 72.7 per cent of manufacturing sales. Manufacturing sales in volume terms were also down, declining 1.2 per cent in December.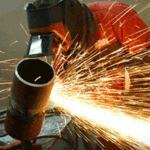 "In the petroleum and coal product industry, sales declined for a second consecutive month, falling 10.4 per cent to $5.2 billion, with a decrease in volumes (-5.2 per cent) accounting for about half the decline," it said.
On an annual basis, sales in Canada rose by 0.8 per cent.
StatsCan said unfilled orders rose 0.6 per cent in December to $97.3 billion, a third consecutive monthly increase. The growth in unfilled orders was attributable to the aerospace product and parts (+0.5 per cent), machinery (+2.2 per cent) and fabricated metal product (+2.7 per cent) industries.
"The unadjusted capacity utilization rate for the manufacturing sector decreased from 79.4 per cent in November to 75.9 per cent in December. Declines were widespread and may reflect to some extent regular seasonal variations. The non-metallic mineral product as well as plastic and rubber products industries had the largest declines in December," it said.
From 2017 to 2018, sales in the Canadian manufacturing sector rose $34.9 billion, or 5.4 per cent, to $686.4 billion. This was the third consecutive annual gain, following an increase of 6.1 per cent in sales posted in 2017.
The federal agency said sales in the petroleum and coal product industry were up for the second consecutive year, rising 15.2 per cent to $73.2 billion in 2018. This gain primarily reflected higher prices. After removing price fluctuations, sales fell 1.5 per cent to $76.6 billion, it explained.
– Mario Toneguzzi for Calgary's Business
---
The views, opinions and positions expressed by columnists and contributors are the author's alone. They do not inherently or expressly reflect the views, opinions and/or positions of our publication.